TOUR PACKAGES
CITY TOURS
minimum 2 people
personal tour guide
1 to 2-hour tour
event photos
bike rental included
BOOK NOW
Group Outing
up to 25 participants
event photos
food + beverage
personal guided events
bike rental included
BOOK NOW
Custom Guided Tour
up to 4 people
personal tour guide
event photos
route built to your specific needs
optional bike rental*
book now
Our Team
Saul has been riding, racing, coaching and exploring the planet on two wheels his whole life. He and his wife Michele have called Charlottesville home since 2006.
Andy and his wife have been running and riding for as long as they can remember. Minneapolis, MN is their home where they enjoy the 3-hours of summer annually and their cat Buddy.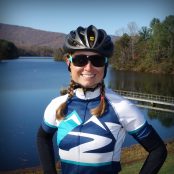 Sarah loves to ride uphill. She and her husband Duane call Charlottesville home. When the sun is shining you can find Sarah riding up on the Blue Ridge Parkway.
Bryan
Guide | Pro Cyclist
Bryan "BSlow" Lewis is a professional road and mountain bike racer. If you want someone who can show you a great ride while pulling a semi-truck, he's your guy.
Anne and her husband have been in Charlottesville for many years. Anne is happy on or off-road. She's fast enough to ride with the elite riders but often chooses to take a slower pace and enjoy the area.
Chris has lived in Charlottesville for many years and has deep knowledge of the best local roads. In addition to riding, he's an engineer and volunteer fire fighter.
Services
Pre-Planned Tours
Looking to join one of our pre-planned events?
This is one of the easiest ways to get plugged in.
Custom Tours
Have a dream tour that you've always wanted to make real? Let us do the legwork.
Group Events
Getting together on bikes makes any event more memorable. We will make your corporate outing or teambuilding event one you will be proud of.
Training
Learning to ride with a group?
Planning to enter your first race?
Let us take your through the steps to success.